Ecodesign involves incorporating ecological and environmental criteria in the design of products and services throughout all their steps: conception, development, transport and recycling. These criteria are related to the circular economy, responsible consumption and sustainability. In our sector, it is inextricably linked to the concept of sustainable fashion.
So, to the traditional fundamentals of design (aesthetics, cost, quality, usability), a new one is added, the ecological one. The ultimate purpose of eco-design is greater respect for the environment throughout the life of the product and, on the other hand, the very purpose of design: to offer the end user a benefit. 
There are 10 golden rules of circular design:
1-Toxicity – eliminate toxic substances, or otherwise keep them in closed cycles.
2-Internal management – reduce energy and resource consumption.
3-Structure – minimize the mass of the product without compromising its functionality.
4-Lifetime consumption – minimize resource consumption over the lifetime of the product.
5-After-sales service – offer the customer the repair and upgrading of products.
6-Durability – promote the long life of the products.
7-Materials and finishing – use quality materials and offer structural arrangements to minimize wear and tear.
8-Identification and labeling – provide upgrade, repair and recycling information in manuals and labels.
9-Material hygiene – reduce the number of materials, keeping them simple, recycled and unmixed.
The fashion industry is the second most polluting industry after the oil industry, as reported by the UN. Therefore, the textile sector cannot be unware to this hard reality and must look to the future and transform its processes to turn them into sustainable and circular fashion.
And, what about Evlox?
85% of our current collection is sustainable, and we continue working to increase this figure year after year.
We call our production process The sustainable cycling of manufacturing.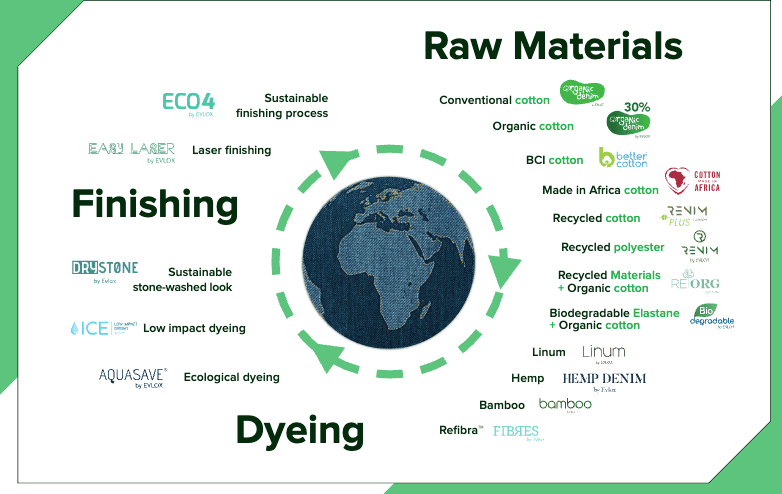 At every step of the process, we introduce sustainability measures to bring the final product as close as possible to the concept of eco-design. Through materials, dyeing and finishing, Evlox incorporates environmental care measures, which we call Total Care by Evlox.
If you want to know more, continue reading!
We use authentic sustainable fabrics that link the most cutting-edge technology to committed development.
Raw materials and spinning:
Conventional cotton.

Organic cotton.

BCI cotton (Better Cotton Initiative).

Cotton Made in Africa.

Recycled cotton.

Recycled polyester.

Biodegradable Elastane – organic cotton.

Recycled materials + organic cotton.

Linen.
Hemp.
Bamboo.
Recycled fiber.
Dyeing and finishing
Ecological dyeing: Aquasave by Evlox.

Low impact dyeing: Ice by Evlox.

Sustainable stone-washed look: Drystone by Evlox.

Laser finishing: Easy Laser by Evlox.

Sustainable finishing process: ECO4 by Evlox.
The whole process is exhaustively controlled, with complete traceability of all the materials used.
Find out more about all these sustainable materials and processes on our website!
And by the way! Do you know about hemp, the vegetable fiber that is revolutionizing the future of eco fabrics in denim trends? Here we tell you about it!
Actions by Evlox
In each step of the manufacturing processes we carry out different actions to minimize the environmental impact:
Raw materials and spinning: up to 34% recycled materials.
Dyeing: 
Use a dyeing technology that

reduces water consumption

.

High concentration of

pre-reduced Indigo

, containing only water and Indigo.
Finishing: 
Last generation of

sustainable finishing

.

Better performance in

laser finishes

.
So that, Evlox is making the difference in the way the denim is produced. That is our true commitment.
Our certificates
You can check and download all our certificates here.
And that's not all, in future articles we will tell you more about Evlox's sustainability news and innovations, as well as our engagement with different regulatory organizations. Stay tuned to our blog!