With the arrival of the metaverse, the fashion industry has been one of the first to take a stand. From collaborations with video games to catwalks in the metaverse, fashion brands are opening the door to a new world of possibilities in relation to digital user experiences. Is the arrival of digital fashion.
Thanks to the digital technology present in the metaverse, users can try clothes on before buying them: in a virtual showroom, they can observe the garment in a 360-degree perspective and can also zoom in to see details such as stitching, trims, fabrics, etc. In fact, users can try on the garments virtually by dragging one or more products to their photo. In this way, in the metaverse it is possible to have your fitting room at home and have the same experience in the digital world as in the physical one. Leading brands in the industry, such as Stradivarius, already offer this possibility. Other major brands such as Zara or H&M, and also luxury houses such as Dolce & Gabbana, among others, have presented their digital fashion collections; and even a metaverse fashion week has been held. We talk about it all in this article, read on!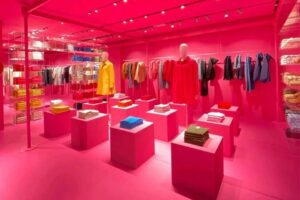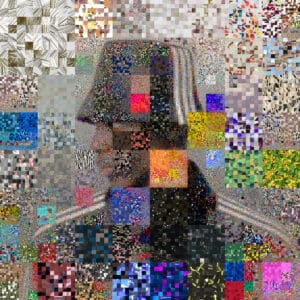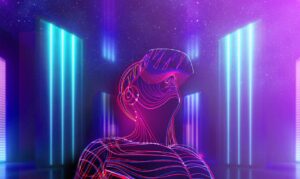 The origin of what awaits us with the arrival of the metaverse can be found precisely in another industry within the world of technology: gaming. Fashion brands have already teamed up with video games to offer a new experience through skins. Firms such as Moschino, Gucci, H&M or Balenciaga have been able to take advantage of the boom in the video game industry and the general situation resulting from the pandemic to create digital collections that buyers can use to dress their avatars.
Taking this a step further, what differentiating benefits can digital fashion bring?
Some success factors to consider are:
– New opportunities for new designers, by having a new space where specialized media and buyers attend their presentations. 
– The end of technical problems and unforeseen events during the live broadcast of fashion shows, having the great advantage of previously edited content. 
– Knowing how to see an opportunity where others see chaos and getting ahead of it: although no one yet knows exactly what the metaverse will consist of and everything is a mystery, the most creative and ingenious organizations have the chance to adapt quickly to change and propose innovative and profitable projects, as we are already seeing in the case of brands in the luxury industry that build striking experiences, like Dolce & Gabbana for instance. During the Metaverse Fashion Week, D&G chose cats with glasses and hairstyles as their digital models. Their parade was held in a virtual room with digital effects; each cat had its own style and the collection echoed the brand's actual runway show, both in the set design and the furs presented. This season, the brand's fans will indulge in metaverse logomania.
However, not everything is so sophisticated. Stradivarius opted for an easy and accessible initiative: an application whose operation requires a few simple steps: download or open the brand's application, click on the "digital fashion" function, take a photo (or upload one from the gallery) and try on the products you want. Once the garments have been selected, the photos can be downloaded at the time of purchase, so that they can be shared on social networks.
Digital fashion platforms such as DressX or The Dematerialised also have a relevant role in the digital fashion scene: they offer their buyers the possibility of acquiring digital designs that, with just a photo, they can adjust to their body. 
As we said at the beginning, video games are another very important activation lever. Many of the brands have used the Roblox meta-game experience, where players can purchase branded clothing to dress their avatars.
In short, the metaverse aims to bring together these virtual experiences, even going further thanks to virtual reality glasses. Not many years from now, we will be able to witness a new digital reality: going shopping, visiting museums, going to fashion shows… all with a simple pair of glasses. 
Although we will still have to wait about 5 years for the virtual reality glasses that Meta (formerly Facebook) will release to offer us the real entrance to this new virtual world, fashion brands are committed to creating fascinating immersive experiences such as the ones we have just discussed.
But in addition to all of the above, it is also worth highlighting the important issue of sustainability, something that concerns consumers more and more every day.
The fashion industry is among the most polluting industries and many problems related to sustainability arise in its value chain (traceability of materials, energy consumption, recycling, disposal, etc.). Digital fashion is by no means a solution to the environmental problem of fashion, but it is more sustainable than traditional fashion, as it does not require raw materials, transportation, etc. for its production.
Although it is too much to say that digital fashion will be able to solve the problems of physical fashion, it is true that digital garments are a more sustainable option.
However, we shouldn't be content with the thought that this is the most sustainable thing the industry can do, because that would imply putting up with the idea that it is not possible to achieve sustainable fashion by optimizing processes and resources. This is exactly what we at Evlox are already doing through numerous initiatives, technologies and collaborations. If you want to know exactly how we are doing it, we recommend you to visit the Sustainability section of our official website.
See you in the metaverse!